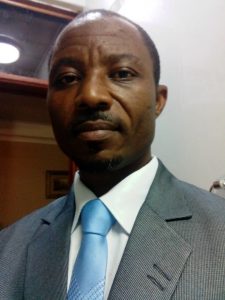 Albert Yelyang is the National Network Coordinator of WANEP-Ghana. He is experienced in Human Security early warning and response including leading in setting up WANEP-Ghana's version of National Early Warning System (NEWS) in 2009 funded by UKAid and Christian Aid, and other projects focused on early warning mechanisms. He has contributed to security sector reforms, is skillful in peacebuilding training, and dialogue facilitation on various sources of conflict in Ghana. He engages the media, stakeholders, and in panel discussions, while moderating some on peace and security issues locally in Ghana and abroad. He also provides inputs into peace and security-related documents and is an advocate of the Sustainable Development Goals (SDGs) especially Goal 16 both in Ghana and on international platforms. He does this to create awareness and towards promoting co-existence, cooperation, and human development.
Prior to being the National Network Coordinator, Albert has worked in various positions in Administration, Finance, and Human Security Early Warning and Response Analysis. He has also served as In-Country CSO monitor for the ECOWAS' ECOWARN from 2006 to 2015, and has, and is serving on many local and international Technical/Steering/Advisory Committees and Working Groups. He has also led and participated in many peace-related scans, Country Risks and Vulnerability Assessments (CRVAs), and mappings, and has some published and unpublished works.
Albert has an MA in Peacebuilding from Coventry University, BA in Management Studies, and an HND in Secretaryship and Management Studies. Through SIDA International and the Uppsala University, Sweden, he is a post-graduate Diploma alumnus of Peace and Security in Africa (PASA) and is also an Allan & Nesta Ferguson Charitable Trust Scholar. He has many other pieces of training including in project management, and in Governance, Development, and Peacebuilding Monitoring and Evaluation from the TMG/Mitchell Group and Pittsburgh University sponsored by USAID. Albert has been working in the peacebuilding field for over 18 years now.